After a tough season last year, Angelique Kerber is playing some outstanding tennis to start her 2018 season – and she has the results to back it up. Including the Hopman Cup, she is 6-0 in singles matches this year with wins over the likes of Venus Williams, Belinda Bencic and Lucie Safarova. It as if we are watching the Kerber who is a two-time Grand Slam champion and former world #1. How can the German rediscover that form?
The Serve (Wim Fissette Effect)
During the "pass the parcel" of WTA coaches in the off-season, there were many surprises. Torben Beltz, the man who helped Kerber to #1, split with his charge. Wim Fissette joined the Kerber team which seems like a very good partnership so far. Fissette is an experienced coach on the WTA Tour and has helped the likes of Johanna Konta, Victoria Azarenka, and Simona Halep. He had an instant effect on each of these players' serves as you can see below.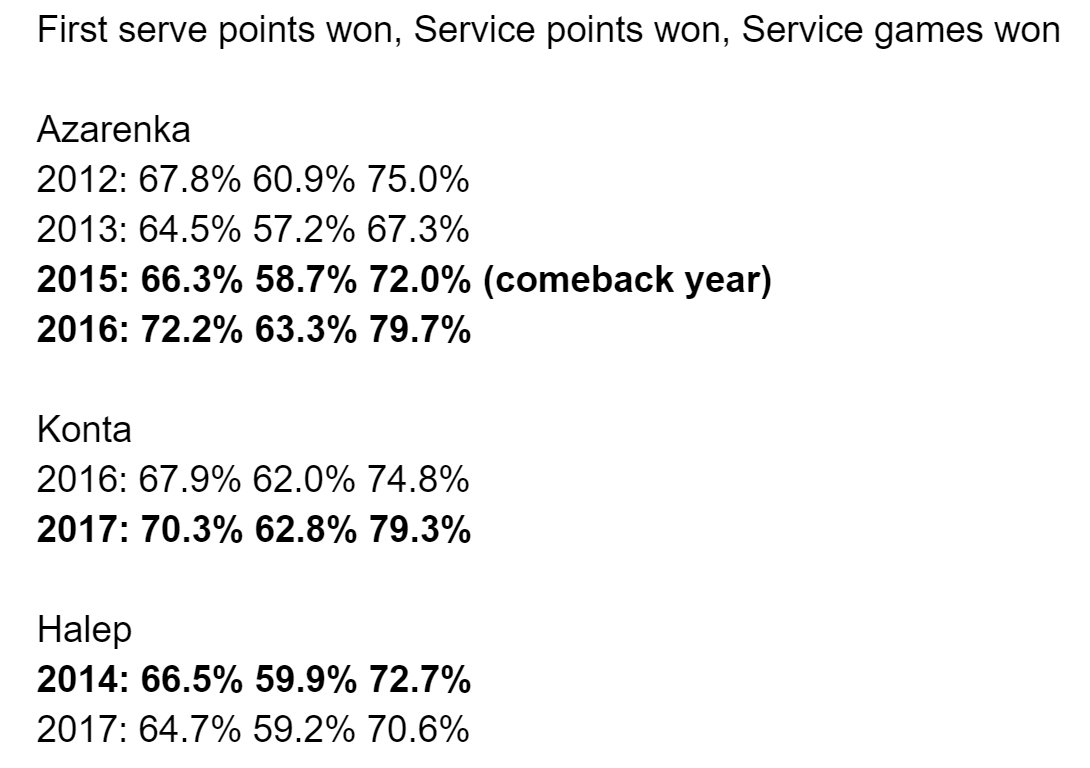 As you can see, each of these former top five players enjoyed their best serving years under the guidance of the Belgian. Small percentages can make huge differences in elite level tennis. Just take Roger Federer for example, in 2013 he finished the year #6, in 2014 he won just 1% more points and finished the season #2. These minute differences can get Kerber back to the top.
The German's overwhelming weakness in her game is the serve, so if she is able to turn it into a strength then she will become a formidable opponent. There are already visible differences in her motion and we are seeing her bend her knees a lot more. Her first serve winning percentage has risen by 8% from 2017, an instant effect. Angelique Kerber even aced Roger Federer when the two faced off in the mixed doubles at the Hopman Cup.
Aggressive Tennis
What helped the German so much in her stellar 2016 season was her ability to play very tight to the baseline. This allowed her to dictate much more points as she was using her opponents pace against them, she played to win. In 2017 she suddenly played to not lose which is not the mindset that got her to #1. Kerber waited for her opponents to make errors and retreated to behind the baseline where she was forced to do a lot of running.
During her run to the Australian Open title in 2016, she defeated three big hitters in a row: Azarenka, Konta, and Serena Williams. In these matches, Kerber refused to give up ground and this was proven throughout the year in her matches against power players as she scored big wins over Venus Williams at Wimbledon and Karolina Pliskova in the US Open final.
Each of her Grand Slam losses in 2017 were to big hitters, which is surprising when you look at her 2016 results. The German's defeats to Coco Vandeweghe in Melbourne, Ekaterina Makarova in Paris, and Naomi Osaka in New York were all in similar fashion: she got blown of the court and waited for errors. In fairness she came extremely close to defeating Garbine Muguruza at Wimbledon in what was probably the best match of the year.
However, this year Kerber is playing tight to the baseline again. Her win over Venus Williams in Sydney demonstrated that beautifully as she was taking the ball nice and early. This is a great sign if Angelique Kerber is going to make it back to the top.
Confidence
Last season, Kerber's year never really got going and that is because she was constantly being hit with losses which drained her confidence away from her. At times it looked like the former World #1 did not want to be competing and that was a tough watch. After a successful Hopman Cup campaign, it appears she has her confidence back.
Only three players went undefeated in singles at the Hopman Cup: Roger Federer, David Goffin, and Angelique Kerber. That week fuelled the 29-year-old with plenty of self belief and now she seems like a different player. In 2017, it took Kerber nine months to clinch her first (and only) top five victory of the year. It took the German just one WTA tournament in 2018 to find her first top five win and surely there are many more to come.
It was clear that the two-time Grand Slam champion hated having a target on her back as the world's best player and it showed. In 2016, she was the underdog which is the role Kerber fits best and it is the role she will be playing this year as she is currently ranked #22.
Angelique Kerber is beginning to find her best tennis again which is fantastic to see. The popular German is showing immediate signs of improvement, especially in her serve and aggressive mindset. Her confidence is back and she will be one of only two former champions (the other being Maria Sharapova) to compete in Melbourne. Angelique Kerber may be back to her best in 2018.
http://lastwordontennis.com/2018/01/10/angelique-kerber-can-get-back-top/