Since waiting in the rain to watch Kyrgios' thrid round match against Vesely at Wimbledon 2014, he has come a long way…
Under the floodlights of Cancha Central, 6,000 fans were treated to a sublime serving display produced by Australia's Nick Kyrgios. The result stunned the Abierto Mexicano and although we knew the highly talented 21 year old was capable of it it was still unexpected.
Nick Kyrgios blew Novak Djokovic off the court with his instinctive, aggressive brand of tennis. The Australian was playing an extremely high level of tennis which seemed to catch the Serb off guard. Throughout the match it had seemed that Djokovic was having to keep up with Kyrgios and not the other way around that we had all thought. The unpredictable Australian fired 25 aces in just two sets as well as 41 winners, in contrast Djokovic managed to muster 23 winners past the inform Kyrgios. In addition, this match had seen Djokovic with the lowest percentage of returning points won in his entire career, which is some feat from the Australian against a man who is widely considered as the greatest returner in the history of the sport.
The win also put Kyrgios in an elite club as only the second person ever to defeat Roger Federer, Rafael Nadal and Novak Djokovic at the first time of asking. The only other player to accomplish this? Lleyton Hewitt, his Davis Cup captain and mentor. What is most surprising is the way these two players won their matches against arguably the three greatest players of all time. Lleyton Hewitt was much more disciplined in the way he went about his matches and he gave nothing away making sure he gave himself the best chance of winning through high percentage plays. Kyrgios is on the other end of the spectrum which was highlighted in his matches against these players where he painted his tennis with ridiculous drop shots and nonchalant tweeners that make you think you are watching an exhibition match. People doubt Nick's approach to tennis, however this shows that there is many ways to get results and Nick can indeed do tennis his way.
What makes Nick Kyrgios so interesting is not just his tennis, but it is his personality. Many people say that Nick is 'box office' because he is something that tennis has not seen since the likes of Andre Agassi. You can often catch Nick cracking jokes on the court, engaging with fans in the crowd or letting an umpire know exactly what he thinks of their decision. This is what makes him so popular, especially amongst the younger audience, he is raw. Shortly after the epic match against Novak Djokovic in Acapulaco, Nick posted a picture on his Instagram page with the caption involving two emojis citing 'Djoker Out'. Again this is not something you expect to see in tennis nowadays with the likes of Federer and Nadal being very respectful of one another, almost too much. Nick is a breath of fresh air both on and off the court and a different character that this sport needs.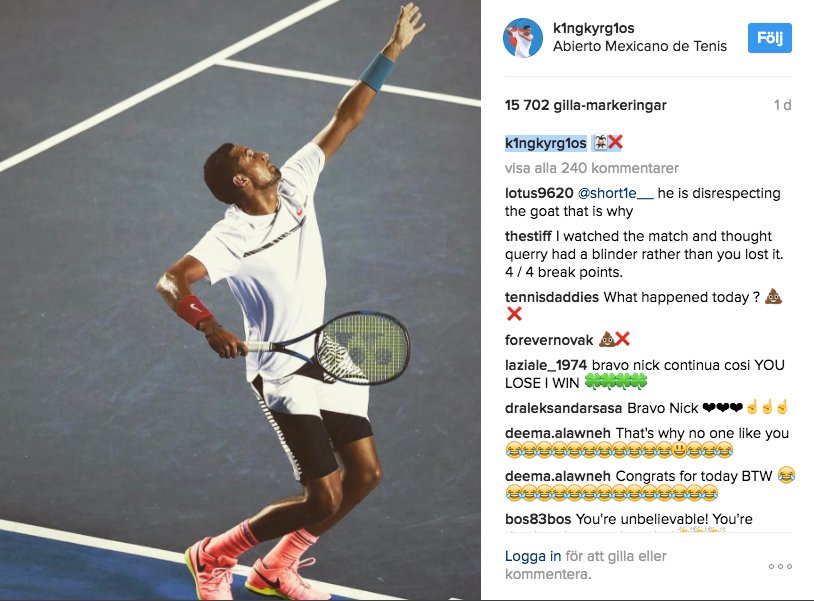 Little over a week later and the tennis world was eagerly anticipating who will escape 'The Quarter of Death'. The draw of the BNP Paribas Open had seen six title contenders all placed in the same quarter at the bottom of the draw. The elite section included Nadal, Federer, Djokovic, Juan Martin del Potro, Alexander Zverev and Australia's Nick Kyrgios. Only one of these players would make the semi finals. Kyrgios accepted this and made  his way through the draw.
In only the third round, Nick Kyrgios would play junior rival and good friend Alexander Zverev, which absorbed the focus of the tennis world. A match that was highly expected to go the distance was dominated by Kyrgios' explosive tennis which Zverev simply had no answer to which the 6-3, 6-4 scoreline shows. There is no doubt however, that we will see these two compete for the sport's biggest prizes in years to come.
Things did not get any easier for the Australian, his next opponent would be the man he dismantled a week earlier, the three time defending champion Novak Djokovic. The match was hotly anticipated and many expected the Serb to learn from his defeat to Kyrgios. In the very first game of the match the Australian broke in a game which involved a 30 shot rally that showed he can beat Djokovic at his own game. From then on Kyrgios was untouchable on serve until the last game where the Serb came so close to creating a break point for himself then Kyrgios replied with an outstanding backhand pass which the Australian showed his immense passion by pumping up the crowd.
The second set was more tightly contested as a result of the world number two raising his level to keep up the Kyrgios. However, he was still not being able to read the Kyrgios serve as the set headed to a tiebreak. The Australian kept up his high level and created match points for himself to win his second successive match against Djokovic. On the first he went for a flashy finish, attempting to lob Djokovic with a tweener which narrowly missed the sideline. The occasion did not seem to phase Kyrgios as he sent down a thunderous 118 miles per hour serve which the great returner was unable to return. An elated Kyrgios released a gladiatorial roar in celebration of this remarkable feat. Nick Kyrgios had arrived.
A fantastic all around performance from the Australian saw him win his second successive match against Novak Djokovic, a man people believed to be his toughest opponent due to the match ups in their style of play. Kyrgios, the great server versus Djokovic, the great returner. However, he has never dropped a set to the Serb in two meetings and in both of those matches he seemed in control throughout. In their Indian Wells match, Djokovic was unable to get a read on the Kyrgios serve as he did not create  a single break point. Many people doubted if Kyrgios could back up his first meeting with the Serb yet he did not just back it up, he was even better, the sign of a true champion. Novak Djokovic praised the Australian's serve after the match "On his first serves, to try to anticipate and read his serves, where he's going to go 140 miles per hour down the T and also pretty good wide angle, it's hard to position yourself well… it's a gamble. His second serve, if you think you're going to have a look at it, you don't, because he goes for it as well. He didn't make too many double faults."
Nick Kyrgios is no stranger to success, in the fourth round of the 2014 Wimbledon Championships, he stunned world number one Rafael Nadal on Centre Court to announce himself to the world. He followed this up by making another Grand Slam quarter final at the Australian Open in 2015. Last year he enjoyed his best year on tour by winning three titles in Marseilles, Atlanta and the ATP 500 event in Tokyo. In addition he has wins against Nadal, Federer, Djokovic, Wawrinka, Raonic, Berdych, Gasquet, Cilic and Monfils yet his recent success in Indian Wells shows us that he will become a champion and that he has arrived.
Roger Federer also agrees that the Australian is showing real signs of promise, "I think he's more established than I was back then already, because he's already beaten great players for a while now. I don't think I was doing as great as he was. I didn't have that big of a game, per se, with the serve and everything. I feel with Nick and me, we have a lot of options, so it's hard for us to always pick the right one." If arguably the greatest player is saying these kind of words about Kyrgios then surely he will be special.
The great Swiss was the man Nick would play for a spot in the Indian Wells semi finals but sadly Kyrgios had to withdraw with food poisoning. The match was one of the most eagerly anticipated matches of the year. Now the tennis world, including Kyrgios, moves to the east coast of the United States for the Miami Open, also a Masters 1000s event and the Australian will be ready to continue his rise to the top of the game. The big talking points of the tournament are that the two top players in the world, Andy Murray and Novak Djokovic, will not be competing at the event due to elbow injuries. Their withdrawals mean there is a great opportunity for other players to win this prestigious event and one of them is Nick Kyrgios.
With debut wins against some of the greatest players in history, an exciting game mixed with an intriguing personality, a growing trophy cabinet and his arrival to the tennis elite, it is fair to say that this is Nick Kyrgios' time to shine.
UK Tennis Magazine Issue:
http://online.fliphtml5.com/wlgu/dwle/